Train like Soldiers! Use G-STEM skills and teamwork to carry out a simulated U.S. Army mission.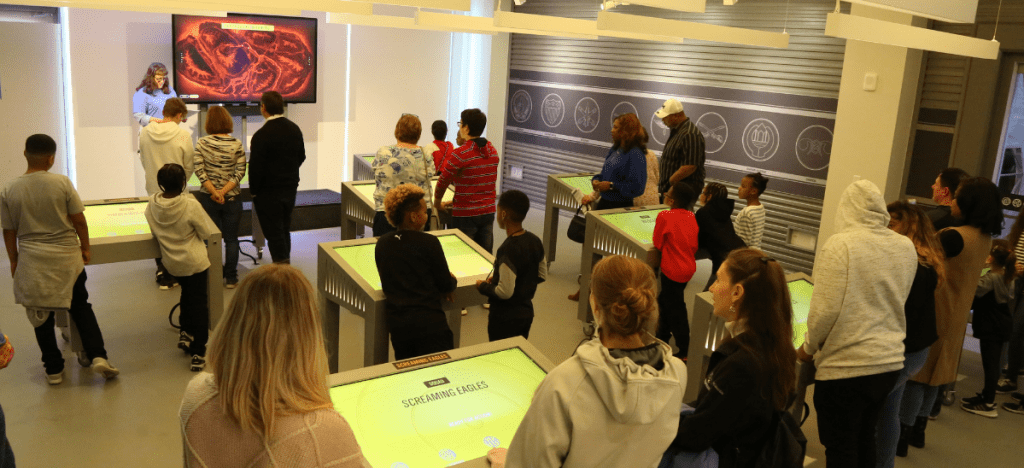 Operation Safe Passage (OSP) is an exciting role playing experience for groups of all ages. Players learn how Soldiers solve problems using geography, science, technology, engineering, and math. Squads train by playing a series of increasingly challenging games. After training, they test their new skills in a simulation. Squads execute a humanitarian mission on the fictional Belmore Island. Following an earthquake, they repair bridges, deliver emergency supplies, and rescue civilians. Teamwork is key to success. Players receive ongoing feedback by earning badges along the way. Walk in the boots of Soldiers and use your G-STEM skills to save Belmore Island.
Length: 60 Minutes
Ages: 4th-12th grade; Adult groups
Group size: 12 to 35
Cost: Free!
Program times: 10 a.m. and 3:30 p.m Monday-Friday; 9 a.m. and 3:30 p.m. Saturday-Sunday
Inquire about Operation Safe Passage
From January 10, 2022 to March 11, 2022, OSP is offered between 10-11 a.m. and between 2-4:30 p.m.
The maximum group size is 35. A student OSP group may include no more than 30 students and as many adults that meet the 35-person capacity. Chaperones over the maximum group size will be invited to tour the Museum during the program. A minimum group of 12 is required to reserve the program.