NEWS RELEASE
November 12, 2020
National Army Museum Opens with Inspiring Ceremony on Veterans Day 2020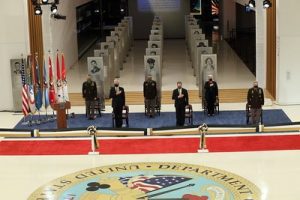 In a year of unexpected challenges, the National Museum of the United States Army was able to complete finishing work on its exhibits and formally open its doors on Veterans Day with a virtual opening ceremony.
View the video of the opening ceremony.
View photos of the opening ceremony.
The National Army Museum is the first and only museum to tell the full history of the U.S Army in its entirety, providing a comprehensive portrayal of Army History and traditions through the eyes of the American Soldier. Anchored by a 185,500 square foot building, the Museum consists of 11 galleries and nearly 1,390 artifacts. Construction began on the Museum in 2017, which is a joint venture between the Army and the Army Historical Foundation.
While pandemic safety restrictions required a virtual ceremony, top Army leadership came together on Veterans Day to laud the Museum's mission and Army history. "The Army's history is America's history," said Army Chief of Staff Gen. James C. McConville. "The Army has been here since before the birth of our nation … The Army museum has done an incredible job of bringing to life, the inspirational stories of service and sacrifice of American Soldiers."
The opening ceremony was also a reflection of the Museum's mission to commemorate and educate. "We cannot truly appreciate the sacrifice of our Soldiers in the Continental Army to today or comprehend what they went through unless we see the weapons they use, feel the uniforms they wore, hear the stories they told or read the letters they wrote," Chairman of the Joint Chiefs of Staff Gen. Mark A. Milley said. "But we can come here and we can see the relics and hear the stories through the eyes and the voices of the individual Soldiers who endured so much for the cause of freedom and their unrelenting devotion."
The Museum's opening also brought a flood of positive reviews.
Washington Post art and architecture critic, Philip Kennicott, wrote "The Army and the Army Historical Foundation have devoted substantial resources to create a museum that now ranks among the major public-history institutions in and near the nation's capital."
Mark Yost of the Wall Street Journal noted, "Until recently, there have been two pre-eminent military museums in the United States, the National World War II Museum in New Orleans and the National Museum of the Pacific War, a hidden gem in Fredericksburg, Texas. Now there is a third: the National Museum of the United States Army.
The Museum has taken steps to ensure the public can visit confidently by implementing enhanced health and safety protocols and requiring free, timed tickets be reserved in advance to manage capacity. More information on visiting the Museum is available at: theNMUSA.org.