Go in depth with Soldiers' Stories. Book your group for an exclusive Army history briefing.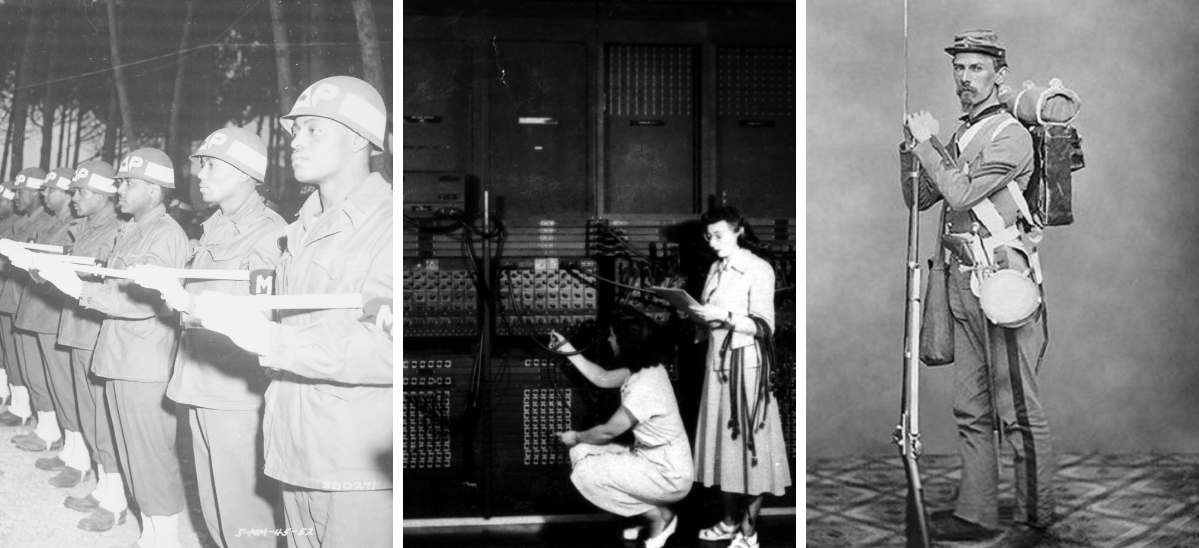 These one-hour programs offer groups the chance to add even more to their museum experience. Program presenters use pictures, video clips, and reproduction objects to guide groups in a deeper exploration of Army history. Choose from a menu of topics to match your group's interests.
Length: 60 minutes
Ages: Adult
Group Size: 12 minimum
Cost: Free
Program times: 12 p.m. Monday-Friday
Ask about adding lunch to your Military Matters reservation!
Click here to inquire about Military Matters
---
Program Topics:
The Civil War Soldier's Load: Technological Innovations
The Civil War consumed the United States from 1861 to 1865. Tens of thousands of Soldiers endured hardships and challenges to carry out the Army's military mission to preserve the Union. The items Soldiers carried into the field were invaluable to performing their duty and executing the Army's mission. Explore the gear, weapons, and personal items that made up a Civil War Soldier's Load.
Making a Way Out of No Way: The African American Soldier Experience in World War II
Generations of African Americans have served their country, many serving in segregated units and not always given the respect and honor due to them. Although African Americans fought with distinction in World War II, they returned home to a segregated America. In 1948, President Harry Truman issued Executive Order 9981, which called for equal opportunity for all members of the Armed Forces. The segregated Army became a thing of the past and the segregation of American society began to crumble. Explore the commitment, challenges, and bravery of African American Soldiers serving during World War II with artifacts, primary resources, and personal accounts.
The Accomplishment of the ENIAC and the Women Computing Pioneers
Winning World War II required an all-out effort. Thousands of women on the home front answered their country's call to join the military, industry, and the civil service. In 1943, the U.S. Army recruited seven women mathematicians to set up and operate the Army's newest top secret weapon: the Electronic Numerical Integrator and Computer (ENIAC). These unsung heroes wired the electrical connections that enabled the world's first electronic, digital computer to complete 300 calculations per second. In doing so, they built a framework for the field of computer programming. Discover how female "computers" solved complex problems, contributing to Army innovation during World War II.
---