Our understanding of the past comes from a variety of sources – documents, oral histories, photographs and film to name a few. Artwork is one of those sources that fills in the gaps of our historical memory. Art helps us tell stories of past events and imagine what it was like to experience them firsthand.
Since the Revolutionary War, Soldiers have created art to express their individuality, mark turbulent events and comment on political and cultural attitudes of the day. Etchings on equipment, sketches in letters mailed home or more formal paintings depicting battle scenes are all ways that Soldiers have documented their experiences and provided civilians with a glimpse of their service.
Soldiers also seek out art – in the form of music, comedy, and literature – to release stress and distract themselves from the chaos of war. Entertainment like USO "Camp Shows" and radio productions provided Soldiers a break and an opportunity to contemplate their experiences in a new way.
Explore art produced and consumed by Vietnam Soldiers. Learn how this art contributed to a Soldier culture unique to the conflict. Through an examination of art and artwork, gain a greater appreciation for the commitments and sacrifices of Vietnam Soldiers.
Register for the VIRTUAL History Talk on January 24 at 12 p.m. ET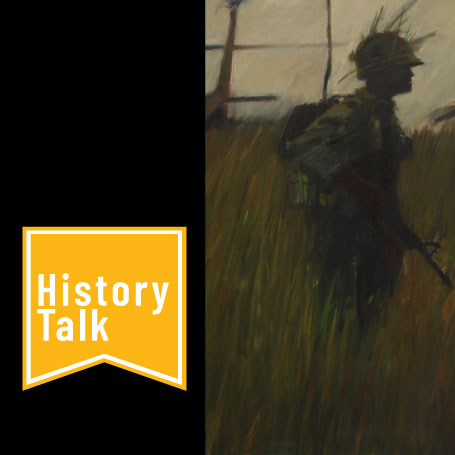 January 24 @ 12:00
12:00 pm — 12:45 pm
(45′)
Virtual (Zoom)