In mid-September 1862, the Union Army of the Potomac commanded by Maj. Gen. George B. McClellan defeated Gen. Robert E. Lee's Confederate Army of Northern Virginia along the banks of Antietam Creek, near Sharpsburg, Maryland, in a day-long, bloody contest that saw over 22,000 Soldiers killed, wounded, or captured. This salient Northern victory ended the rebels' late summer invasion across the Potomac River, and later provided a momentous opportunity for President Abraham Lincoln to issue the Emancipation Proclamation on January 1, 1863, declaring "that all persons held as slaves" within the Confederacy "are, and henceforward shall be free." The battle was a much-needed victory for the Union and Lincoln and McClellan.
Despite having defeated Lee and his army, McClellan has been subject to criticism ever since the battle for his handling of the Antietam Campaign, particularly by Lincoln and modern historians. Did McClellan move his army too cautiously against the widely separated Confederate forces? Did he fail to take advantage of his knowledge of Lee's plans? Did he properly deploy and engage his troops during the battle? Were McClellan's tactics too conservative? These and other questions regarding "Little Mac's" conduct during the campaign will be explored by the National Museum of the United States Army's educator and historian John Maass, in a one-hour presentation on McClellan and the Battle of Antietam.
Dr. John R. Maass is an education specialist at the National Museum of the United States Army, and a former officer in the 80th Division of the Army Reserve. He received a B.A. in history from Washington and Lee University, and a Ph.D. from the Ohio State University in early U.S. history and military history. He is the author of several military history books, including "The Battle of Guilford Courthouse: A Most Desperate Engagement," and "The Road to Yorktown: Jefferson, Lafayette and the British Invasion of Virginia."
This program is offered VIRTUALLY and IN-PERSON on Tuesday, August 9, 2022. Museum guests may attend in-person. Seats are limited and available on a first-come, first-served basis.
Register for the VIRTUAL Battle Brief on Tuesday, August 9, 2022 at 12 p.m. ET.
Get a Museum General Admission ticket on Tuesday, August 9, 2022 to attend IN-PERSON at 12 p.m. ET.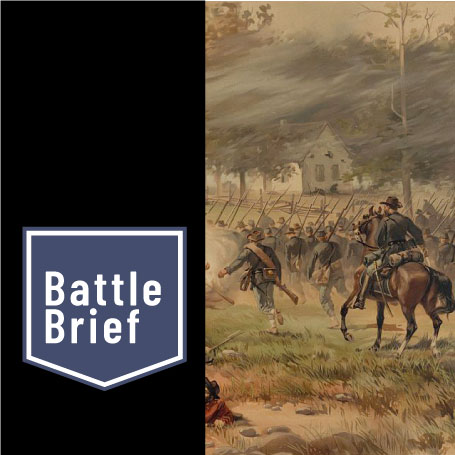 August 9 @ 12:00
ELC, Virtual