Margaret Corbin
Camp follower
Revolutionary War
November 12, 1751 – January 16, 1800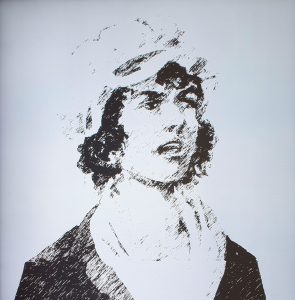 Though unable to officially join the Army until after World War II, women have played a key role in every war the United States has fought. Starting with the Revolutionary War, women served the Army both on and off the battlefield, caring for Soldiers and helping wherever they could. Women faced the same harsh camp conditions as Soldiers, but still persevered through these hardships to provide invaluable service to the Continental Army. One of these individuals, Margaret Corbin, not only followed her husband to war, but even took his place in battle defending Fort Washington from a British and Hessian attack in November, 1776. Corbin's story not only illustrates her tenacity, it also shows the sacrifices many women endured to aid the American cause.
Margaret Cochran was born on Nov. 12, 1751, to immigrant parents in western Pennsylvania. They lived on the edge of the American frontier, exposing them to many dangers from Native tribes and limited access to medicine and food. By the time Cochran turned 5, her parents deemed the frontier too dangerous for their children and sent them to live with their uncle. Unfortunately, her parents were correct about the dangers of living on the frontier. Just a few months later, Native Americans attacked her parents, killing her father and capturing her mother. Cochran never saw her mother again and lived with her uncle until she married John Corbin, a Virginian farmer looking for a better life on the frontier, in 1772.
The Corbins lived on a small Pennsylvania farm for three years until John enlisted in the 1st Pennsylvania Artillery in 1775 to fight against the British in the Revolutionary War. With John joining the Army, Margaret was put in a difficult position. Without family to rely on while John was gone, she would have to provide for and protect herself. On the other hand, Instead, Margaret chose to join John and the Army as a camp follower, like thousands of women before her. As a camp follower, Corbin traveled with the Continental Army, staying in their camps and performing a variety of tasks such as sewing, cooking, laundry, and caring for injured Soldiers. Though not official members of the Army, these women received rations and a small wage if they operated their own business. They did not receive any special treatment and faced the same harsh conditions of camp life as Soldiers. They also received a bad reputation as some viewed them as sex workers and not assets to the Army. General George Washington did not view camp followers favorably, but allowed them because he understood the vital role they played in keeping the Army running. Even his wife, Martha Washington, joined her husband on campaign several times during the war.
Corbin continued with the Army for more than a year, performing many of the standard roles of a camp follower. In addition, she helped on the battlefield. During battle, some women provided food and water to Soldiers or carried ammunition and powder to artillery troops, but they rarely took part in the fighting. However, at the Battle of Fort Washington in November 1776, Corbin was a rare exception. Fort Washington was one of the last major fortifications held by the Continental Army near New York City. The Army sent John's artillery regiment to protect the fort from an impending British and Hessian attack. On Nov. 16, 1776, the British attacked Fort Washington and both Margaret and John leapt into action.
John served as a matross for his artillery gun, loading the cannon. The patriot forces had cannons placed along the ramparts of the fort, but the British proved to be formidable opponents. The British bombarded Fort Washington's defenses before they launched their assault. Margaret brought water to John at the cannons for cleaning and cooling off the guns. Upon returning with a pail of water, British cannon fire struck and killed her husband. She immediately ran to the cannon to fill John's role on the crew. With her help, the cannon continued to fire, but British cannon fire hit Corbin three times, causing severe wounds to her left arm, chest, and jaw.
The British quickly overran Fort Washington, capturing the remaining Patriot forces. Despite suffering life-threatening injuries, British doctors saved Corbin's life. After receiving treatment, the British army returned Corbin and several prisoners to the Continental Army who sent her and a number of other women and injured Soldiers to recover in a Philadelphia hospital. She ultimately lost the use of her left arm, impeding her ability to dress and perform everyday tasks. On July 6, 1779, in recognition of her bravery at Fort Washington, Congress awarded Corbin the first pension received by a woman in American history. As a widow with no other family, the Army sent her to West Point, New York which was home to the Invalid Regiment. This regiment was made up of severely injured troops who could no longer provide service in the field. She stayed at West Point for the rest of her life, trying to manage the daily pain and struggles she faced from her injuries. She died in 1800 and was buried near West Point. Though she only served the Army for a short time, her story illuminates the sacrifices and hardships faced by camp followers during the Revolutionary War.
Anthony Eley
Education Specialist
Sources
"The American Revolution." New York Historical Society. Accessed September 16, 2021. https://wams.nyhistory.org/settler-colonialism-and-revolution/the-american-revolution/.
Hefner, Kendra. Margaret Corbin: An American Patriot. Cities of the Night, 2013. Kindle.
"Life Story: Margaret Corbin (1751-1800)." New York Historical Society. Accessed May 17, 2021. https://wams.nyhistory.org/settler-colonialism-and-revolution/the-american-revolution/margaret-corbin/.
"Margaret Cochran Corbin." Daughters of the American Revolution. Accessed May 17, 2021. https://www.dar.org/national-society/margaret-cochran-corbin.
"Margaret Cochran Corbin." Washington Heights NYC. Accessed May 17, 2021. http://www.washington-heights.us/margaret-cochran-corbin/.
"Margaret Corbin, Revolutionary." The American Revolution Institute. December 10, 2019. https://www.americanrevolutioninstitute.org/margaret-corbin-revolutionary/.
Mellaci, Taylor. "Camp Followers." George Washington's Mount Vernon. Accessed May 17, 2021. https://www.mountvernon.org/library/digitalhistory/digital-encyclopedia/article/camp-followers/.
Michals, Debra. "Margaret Cochran Corbin." National Women's History Museum. 2015. https://www.womenshistory.org/education-resources/biographies/margaret-cochran-corbin.
"Women in the American Revolution." Khan Academy. Accessed May 17, 2021. https://www.khanacademy.org/humanities/us-history/road-to-revolution/the-american-revolution/a/women-in-the-american-revolution.
"Women in the American Revolution: On the homefront and on the battlefield." American Battlefield Trust. January 26, 2017. https://www.battlefields.org/learn/articles/women-american-revolution.
"Women in the Army." U.S. Army. Accessed May 17, 2021. https://www.army.mil/women/index.html.