Celebrate at the National Army Museum
and the Army Birthday Festival
Saturday, June 10, 2023
9 a.m. – 5 p.m.
Explore U.S. Army history inside the National Army Museum and enjoy special outdoor activities on the new Warriors' Field with performances by The U.S. Army Band "Pershing's Own," Army vehicle and equipment displays, inflatable bounce house, gaming activities and much more. End the day with a special Twilight Tattoo performance!
Your free reserved ticket includes activities for visitors of all ages. Food and beverages will be for sale from outdoor food trucks and the indoor Museum Café. Army Birthday cupcakes and a 2023 Festival souvenir will be available to visitors in limited quantities.
As of 5 p.m. on Friday, June 9, all of the general admission tickets to the Army Birthday Festival and the National Army Museum have all been reserved and are no longer available. Walk-up tickets for visitors will not be available for the Festival or the Museum.
Schedule of Events
In addition to Festival activities and musical entertainment offered throughout the day, there are several featured events planned and included in your free admission.
8:45 a.m. First shuttle buses depart DLA event parking for the Museum Campus
9 a.m. Festival Opens
11:30 a.m. "Country Roads," The United States Army Band
1 p.m. Army Birthday Ceremony
Join senior Army leaders in celebrating the Army's Birthday with a cake cutting and U.S. Army "Golden Knights" parachute jump
2 p.m. The U.S. Army Band Downrange
3 p.m. Working Dog Demonstration
3:30 p.m. Twilight Tattoo Preshow
4 p.m. Twilight Tattoo Performance
4 p.m. Last shuttle buses depart DLA event parking for the Museum Campus
5 p.m. Festival Ends
6 p.m. Museum Closes
Parking and Shuttle Bus Service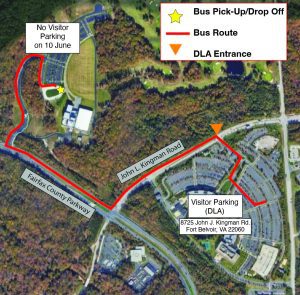 The DLA special event parking area address is:
8725 John J Kingman Road; Fort Belvoir, VA 22060.
On June 10, visitors to the Museum and the Festival will park in the event parking area offered at the nearby Defense Logistics Agency (DLA) and enjoy free shuttle buses to the Museum Campus. Shuttles will begin running at approximately 8:45 a.m. and run continuously with the last bus leaving the Museum Campus at approximately 5:45 p.m. This special event parking area is open to the public – Fort Belvoir access identification is not required. The trip from event parking to the Museum Campus is approximately 10 minutes. The shuttle buses have lifts for riders who do not want to use stairs. This parking area will be monitored throughout the day.
Visitors traveling by ride share should use Defense Logistics Agency (DLA) address as their pick up and drop off location – and take the free shuttles to the Museum Campus. There is no passenger drop off area at the Museum.
A limited number of handicapped/accessible parking spaces at the Museum will be available to visitors with a state issued tag. Additional handicapped/accessible parking will be available at the DLA event parking area.
Security
Visitors will process through a security screening system similar to airport passenger security screening and all bags are subject to search. Please do not bring nonessential items or bags. For essential bags, please limit the size to no larger than 22" x 14" x 9" (a standard backpack).
Political activity is prohibited.
Prohibited Items
Portable chairs and coolers.
Food and drink to include gum are prohibited. Sealed water bottles, empty water bottles, baby milk and formula, and "toddler food" are permitted as is food needed for visitors with dietary restrictions (e.g., halal, kosher, or for medical reasons).
Firearms and ammunition; real or replica. Federal law enforcement officers are authorized to carry at all times; local law enforcement may only carry while on official business.
Knives, pocketknives razors, box cutters or any other sort of blade or pointed object.
Weapons: clubs, brass knuckles, hammers, martial arts weapons, stun guns, or other types of weapons.
Tobacco, e-cigarettes, vapes, smokeless tobacco, illegal drugs, marijuana, or drug paraphernalia.
See a full list of prohibited items here.