The Museum has temporarily closed as a public health precaution. A reopening date has not been determined and will be based on COVID-19 health and safety conditions. Please check back for updates and follow our social media channels @USArmyMuseum.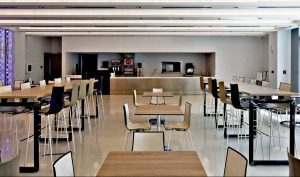 Museum Café
Museum visitors can fuel up at the Museum Café. Managed by The Army Historical Foundation, food services are offered by Flik Hospitality Group which is focused on providing fresh food fast. The Café has a wide range of food options, including grab and go, boxed lunches, and grill items that change daily.
Safety and health measures are in place with self-service check out available for contactless transactions. All tables are set six feet apart with limited seating throughout the Café and Café Terrace, along with ease of ordering in advance on site, through a quick access app or via the web. Café hours are from 8 am to 3 pm. Visit the Café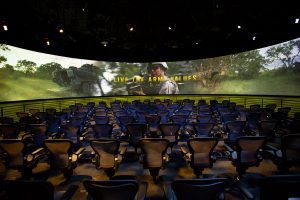 Army Theater
The Army Theater provides visitors with an immersive introduction to the U.S. Army and to the Museum. The film, "Of Noble Deeds," which explores what it means to truly be an American Soldier. It includes footage of Soldiers and current Army operations along with re-creations of some of the Army's most significant battles. The Theater's 300-degree screen and external sensory elements envelop the viewer in sight, sound and movement. "Of Noble Deeds" is shown multiple times throughout the day and does not require a ticket. Some showings will offer limited sensory elements and closed captioning. Learn More About the Army Theater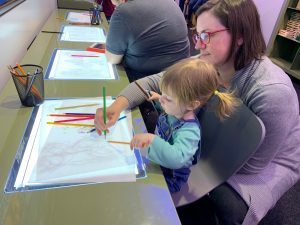 Special Events and Programs
As you plan ahead and prepare for your visit, keep in mind the various special events and public programs offered at the Museum. Check out the calendar of events to explore free and paid offerings for visitors of all ages. The Museum's public programming includes events for learning, enjoyment and entertainment. Some events are part of a series, and others are stand-alone events. Learn More About Our Public Programs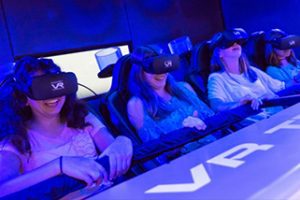 Army Action Center: Virtual Reality and Motion Theater Experiences
The Army Action Center, the Museum's Virtual Reality and Motion Theater Experience will be open during the visitor day and offer three experiences. Special cleaning and COVID measures are in place for this interactive attraction. The Army Action Center is managed by The Army Historical Foundation, tickets are available for purchase on site or may be purchased in advance online.
Holdout! Bunker Defense VR- This arena experience uses state-of-the-art VR and 4D technology for an immersive presence inside a digital world while engaging in simulated rifle target practice.
VR Transporter- In this experience, patrons wear a high-tech head-mounted display while an elevated motion platform pitches and rolls to mimic movement in the virtual world.
Army Action Pod- This Motion Capsule Theater is a futuristic movie experience that seats up to 8 people at a time. Various movie features play throughout the day.
Learn More on the Army Action Center, Virtual Reality and Motion Theater Experiences.
Photography
No visit to the Museum is complete without a selfie or two! Our photo kiosk offers visitors a lasting, personalized memory of their experience. Managed by The Army Historical Foundation, provided by Foto ATM, the kiosk provides a variety of options and products for visitors to print their Museum photos. Guests may also print their smartphone photos and personalize their social media images with the Museum's hashtags! Say HOOAH!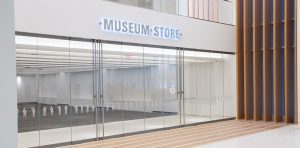 Museum Store
Visitors can cap off their experience at the Museum with a trip to the Museum Store. Leave with more than just memories by choosing from a variety of National Museum of the United States Army and Army souvenirs. The store has a wide range of items for everyone in your family! From trendy, Army-themed apparel to a selection of gifts and books, visitors are sure to find the perfect keepsake.
A 10% discount is provided to members, volunteers, and Founding Sponsors of the Museum. The Museum store is managed by The Army Historical Foundation. Shop the Store