From the Revolutionary War and through the present day, African Americans have proudly served the U.S. Army, many serving in segregated units and not always given the respect and honor due to them.
On December 27, 1918, the 369th Infantry Regiment docked in Brest, France. The all-Black regiment, comprised of men from Harlem, New York and surrounding cities, were assigned to the Service of Supplies – unloading ships and building roads and railroads. Three months later, the regiment was transferred to the French Army where they were given a position on the frontlines and earned a new nickname: "Hellfighters." In the 191 days the men spent on the front lines no ground was lost and no man was captured. Their actions earned them accolades in France and they were celebrated on their return to the United States.
In this History Talk, explore the commitment, challenges, and bravery of the Harlem Hellfighters. Learn how their actions, along with the thousands of other Black World War I veterans, contributed to the Allied victory. Examine the legacy of their service and its impact on the civil rights movement.
Register for the VIRTUAL History Talk on February 22 at 12 p.m. ET
Register to attend the IN-PERSON History Talk on February 22 at 12 p.m. ET.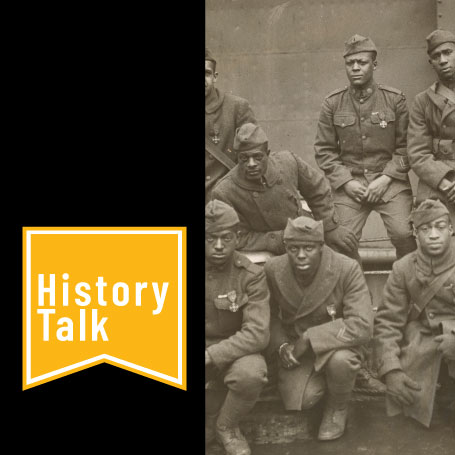 February 22 @ 12:00
ELC, Virtual