"The present seems to be the most propitious time since the commencement of the war for the Confederate Army to enter Maryland," wrote Confederate General Robert E. Lee following his army's stunning success at Second Manassas.
Confederate armies advanced across a thousand mile front in the summer of 1862. The world watched anxiously—could the Confederacy achieve its independence?
Reacting to the Army of Northern Virginia's trek across the Potomac River, General George B. McClellan gathered the broken and scattered remnants of several Federal armies within Washington, D.C. to repel the invasion and expel the Confederates from Maryland. "Everything seems to indicate that they intend to hazard all upon the issue of the coming battle," he said of the invading force.
In "To Hazard All" historians and coauthors Robert Orrison and Kevin Pawlak trace the routes both armies traveled during the Maryland Campaign, ultimately coming to a climactic blow on the banks of Antietam Creek. That clash on September 17, 1862, to this day remains the bloodiest single day in American history.
Kevin Pawlak is the Site Manager of Bristow Station Battlefield near Manassas, Virginia. He was previously the Director of Education for the Mosby Heritage Area Association. He sits on the Board of Directors of the Shepherdstown Battlefield Preservation Association and the Save Historic Antietam Foundation. Kevin also serves on the advisory board at Shenandoah University's McCormick Civil War Institute and Shepherd University's George Tyler Moore Center for the Study of the Civil War. His previous publications include "Shepherdstown in the Civil War: One Vast Confederate Hospital" and "Ohio at Antietam: The Buckeye State's Sacrifice on America's Bloodiest Day." He is a graduate of Shepherd University, where he received his Bachelor of Arts in History with a concentration in Civil War and Nineteenth-Century America.
Register for the "To Hazard All" Book Talk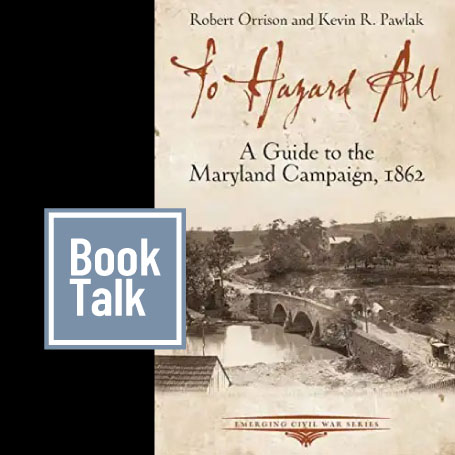 October 20 @ 19:00
Virtual (Zoom)