During the month of Washington's Birthday, the Museum offers two presentations on the victorious Revolutionary War commander's leadership style with fresh insights from two senior scholars.
On February 7, Dr. James M. Dubik will discuss "George Washington the Juggler: an Inquiry into Washington's Wartime Leadership." Dubik suggests that Washington had three key objectives during and after the war: raising a professional American Army, defeating and ejecting the British from America, and creating an independent government consistent with the Declaration of Independence. Washington's French and Indian War experience was insufficient to give him skills to reach these goals. Rather, the period between the French and Indian War and the Revolutionary War is the overlooked time when he learned management skills—as plantation manager, Virginia burgess, local judge, and in business.
On February 14, Dr. Charles P. Neimeyer will explore Washington's role as a savvy political operative during the war years. The general demonstrated exceptional bureaucratic skill in helping Washington preserve his position as commander-in-chief during some of the darker days of the war. Washington has never been fully studied as a savvy political actor. He outmaneuvered internal rivals such as Thomas Conway, Thomas Mifflin, and Horatio Gates and even a wavering Congress who tried to conduct the war via a series of politically contentious committees. Nevertheless, Washington ultimately proved to be the indispensable man throughout the entire war not just in the military struggle, but also in the smoke-filled back rooms of army and congressional intrigue.
James M. Dubik is a retired U.S. Army lieutenant general, and is now a senior fellow at the Institute for the Study of War and a professor at Georgetown University's Security Studies Program. He is the author of "Just War Reconsidered: Strategy, Ethics, and Theory" and received a Ph.D. in philosophy at Johns Hopkins University.
Charles P. Neimeyer recently retired as the director of Marine Corps History and the Gray Research Center at Marine Corps University, Quantico, Virginia. He previously was the dean of academics at the Naval War College and Forrest Sherman chair of public diplomacy in Newport, Rhode Island. He spent 20 years as an officer in the United States Marine Corps.
Register for the VIRTUAL Battle Brief on February 14 at 12 p.m. ET
Register to attend IN-PERSON on February 14 at 12 p.m. ET.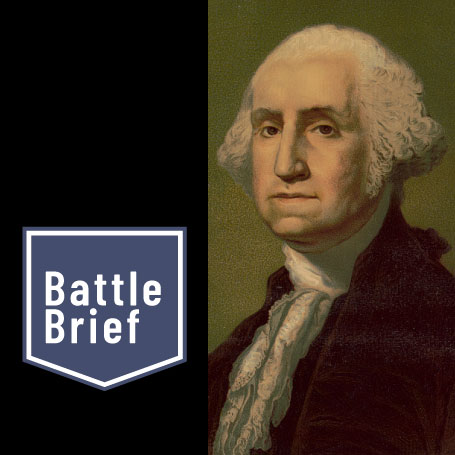 February 14 @ 12:00
ELC, Live Stream, Virtual, Virtual (Zoom)