They were known as "Rudder's Rangers," the most elite attack unit in the United States Army. In December 1944, Lt. Col. James Rudder's 2d Battalion would form the spearhead into Germany, taking the war into Hitler's homeland at last. In the process, Rudder was given two objectives: take Hill 400 and hold it by any means possible. The battle-hardened battalion had no idea that several German regiments, who greatly outnumbered the Rangers, had been given the exact same orders. The clash of the two determined forces was one of the bloodiest and most costly encounters of World War II.
Learn from best-selling authors Bob Drury and Tom Clavin about the brutal fighting and heavy casualties in the Army's assault on Hill 400 in a saga of World War II winter combat.
Bob Drury is a three-time National Magazine Award finalist as well as a Pulitzer Prize nominee. Drury honed his investigative skills writing for all four New York City newspapers as well as a variety of national publications. His journalism career has arced from sports to crime to adventure travel to foreign correspondence. He is also the author, co-author, or editor of ten non-fiction books, including "Blood and Treasure," "Valley Forge," and "Lucky 666."
Tom Clavin is a #1 New York Times bestselling author and has worked as a newspaper editor, magazine writer, TV and radio commentator, and a reporter for The New York Times. He has received awards from the Society of Professional Journalists, Marine Corps Heritage Foundation, and National Newspaper Association. His books include the bestselling "Frontier Lawmen" trilogy―"Wild Bill," "Dodge City," and "Tombstone"―and "Blood and Treasure" with Bob Drury.
Register for "The Last Hill" virtual book talk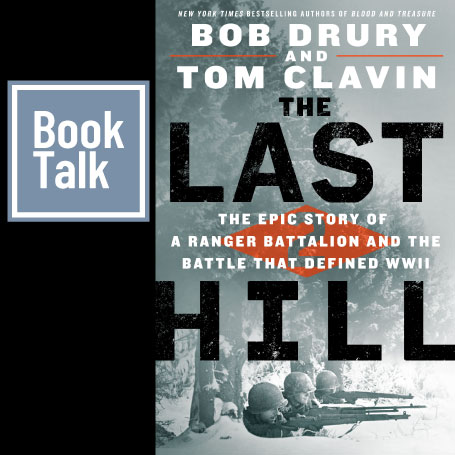 March 16 @ 19:00
Virtual (Zoom)