Anthony C. Acevedo
Corporal
275th Infantry Regiment, 70th Infantry Division
July 31, 1924 – February 11, 2018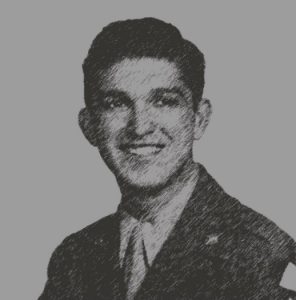 Corporal Anthony C. Acevedo detailed his internment in a Nazi Concentration Camp during World War II. While imprisoned, Acevedo kept a diary of his experience, detailing information about those Soldiers who were killed while Prisoners of War (POWs). His first-hand recounting of the life of an American POW serves as a record of the atrocities committed by the Nazis and is a reminder of the bravery of all concentration camp prisoners.
Born in California to undocumented immigrants, Anthony Claude Acevedo's childhood was divided between America and Mexico. His mother, Maria Lousia Contreras Limantur, died when he was 2 years old. After his father, Francisco Guillermo Acevedo, remarried his parents were deported back to Mexico. To keep the family together, 15-year-old Acevedo and his five siblings moved with their father to Durango, Mexico. Growing up, he had aspirations to become a medical doctor. At the age of 17, Acevedo returned to the United States to enroll in college. However, after the bombing of Pearl Harbor, he decided to enlist in the U.S. Army. His father wrote a letter on Acevedo's behalf, urging the Army to train him to become a medic due to his interest in the field.
Acevedo was accepted into the Army at Fort MacArthur, California, on Aug. 9, 1943. After four and a half months of medical training in Illinois, Acevedo joined 15,000 other Soldiers at Camp Myles Standish in Massachusetts. Soon, they boarded a ship bound for Marseille, France, to join the war in Europe. Acevedo was a medic in Company B, 275th Infantry Regiment, 70th Infantry Division. He provided medical aid to injured Soldiers and credited his backpack of supplies for blocking German bullets. Yet, Acevedo was injured when shrapnel struck him in the leg.
On Jan. 6, 1945, during the Battle of the Bulge, German soldiers cut off and surrounded Acevedo and his company. Forced to surrender, the Germans took their supplies, including their shoes, and marched them barefoot through the rocky, snowy terrain. They ended their march at a political prisoner camp named Stalag IX-B, located in Bad Orb, Germany. There, the Nazi captors tortured and starved the American Soldiers. The Axis soldiers targeted Acevedo, believing him to be a Mexican spy from Durango, instead of the U.S. Soldier he actually was. In his later years, Acevedo discussed the torture and sexual assault he experienced at the hands of his captors during his time at Stalag IX-B.
As his imprisonment continued, Acevedo experienced more violence. In Feb. 1945, "undesirable" prisoners were selected from Stalag IX-B and moved to Berga labor camp, a subcamp of Buchenwald concentration camp. "Undesirable" prisoners included any Americans who were Jewish and those, such as Acevedo, who did not appear to be white. Once in Berga, the Soldiers were forced to work 12-hour days digging a tunnel system for a V-2 rocket factory. The Nazis exempted Acevedo from this work as they wished to use his skills as a medic. While Acevedo provided medical aid to his fellow Soldiers, he was also forced to fill holes in the heads of those Soldiers shot by the Nazis in order to disguise their deaths by murder.
During his incarceration Acevedo kept a diary of his experience. While in the POW camp, Acevedo received a journal and pen during a Red Cross emergency supply drop. These supply drops were authorized in 1943 by the German army after negotiations by the neutral Red Cross. However, Germany approved relief packages to non-Germans in concentration camps only if the Red Cross addressed the parcel to a prisoner by name. The Red Cross collected names and locations of prisoners and ultimately sent out over 1 million parcels to POWs.
The Red Cross parcel Acevedo received helped him document the atrocities he experienced during the war. He also noted the names and dates of the deaths of fellow Soldiers. When Acevedo feared his pen would run out of ink he added urine and snow to extend its use. For Acevedo, keeping this journal was his "moral obligation," even though it put his life in danger. As Allied forces neared Bergen, the prisoners were forced to march away from the camp. During this march, Acevedo was tasked with hauling a cart of dead and wounded Soldiers. By the end of the 217 mile march, as many as 20 dead and sick men were stacked on the cart.
Allied forces liberated Acevedo and his fellow Soldiers on April. 23, 1945. He had been imprisoned for four months. He weighed only 87 pounds and had suffered physical and emotional trauma at the hands of the Germans. He returned to the United States on June. 12, 1945, and was discharged on Dec. 10, 1945. After his liberation, the United States required him and his fellow Soldiers to sign forms stating that they would not discuss their experiences with the media or reveal details of their imprisonment. Later, the U.S. government revealed that this was supposed to be a temporary order. However, Acevedo believed that this was a lifetime ban on discussing his time during World War II.
After the war, Acevedo began working as a surgical technician in Pasadena, California, but later chose to switch careers. He spent the rest of his career as a design engineer in the aerospace industry. He married Amparo Martinez and together they had four children. The pair later divorced and Acevedo married Maria Dolores Lamb. The two were together for more than 20 years. Upon retiring from the aerospace industry, he served as a volunteer at the VA hospital in Loma Linda, California.
Throughout his life, Acevedo struggled to deal with the stigma of being a prisoner of war. His own father argued that he was a coward for having been captured by the Nazis. Such a mentality towards POWs hurt Acevedo and other Soldiers who made immense sacrifices on behalf of the United States. As Acevedo grew older, he saw the value in telling his story. In 2008, after his son discovered his medical records explaining the brutality of his time in Germany's concentration camp, Acevedo began to speak about his experiences. He became the first Mexican American to register as a victim of the Holocaust at the United States Holocaust Memorial Museum. During his lifetime he donated his war diary, Red Cross medical band, cross, and prayer book to the museum. He also provided an oral history for the museum's records. Acevedo died on Feb. 11, 2018, in the same VA hospital he previously volunteered.
World War II saw atrocities beyond what the world had before experienced. For Soldiers such as Acevedo the experience as a POW in Nazi Germany was torturous. Additionally, Acevedo's time in German political prisoner and slave labor camps were violations of the Geneva Convention's rules on the treatment of captured enemy combatants. For Acevedo, his experience lives on through oral testimony and contemporaneous diary entries. Acevedo said about his time in Nazi incarceration "let it be known. People have to know what happened." The stories of Soldiers like Acevedo are essential to the understanding of the American experience during World War II.
Jennifer Ezell
Education Specialist
Sources
"Anthony Acevedo." United States Holocaust Memorial Museum. Accessed April 16, 2021. https://exhibitions.ushmm.org/americans-and-the-holocaust/personal-story/anthony-acevedo.
Anthony Acevedo. Voces Oral History Center. By Eluid Martinez. The University of Texas at Austin, May 10, 2009. https://voces.lib.utexas.edu/collections/stories/anthony-acevedo.
Drash, Wayne. "Medic who documented Nazi camp horror dies at 93." CNN, March 9, 2018. https://www.cnn.com/2018/03/08/health/world-war-ii-medic-anthony-acevedo-obit/index.html
Guise, Kim. "Anthony Acevedo: Mexican American POW Survivor." National World War II Museum. October 9, 2020. https://www.nationalww2museum.org/war/articles/anthony-acevedo-pow-survivor.
Hagen, Ryan. "WWII medic who barely survived 2 German POW camps receives hero's burial." The Press-Enterprise, Last modified March 9, 2018. https://www.pe.com/2018/03/08/wwii-medic-who-barely-survived-2-german-pow-camps-receives-heros-burial/.
Sandomir, Richard. "Anthony Acevedo, Who Documented His Holocaust Ordeal, Dies at 93." New York Times, March 16, 2018. https://www.nytimes.com/2018/03/16/obituaries/anthony-acevedo-who-documented-his-holocaust-ordeal-dies-at-93.html.
Schudel, Matt. "Anthony Acevedo, U.S. Army medic who endured prison-camp horrors during WWII, dies at 93." Washington Post, March 10, 2018. https://www.washingtonpost.com/local/obituaries/anthony-acevedo-us-army-medic-who-endured-prison-camp-horrors-in-wwii-dies-at-93/2018/03/10/ac2273f0-23e2-11e8-86f6-54bfff693d2b_story.html.
Trueman, C. N. "The Red Cross and World War Two." History Learning Site. May 25, 2015. https://www.historylearningsite.co.uk/world-war-two/the-red-cross-and-world-war-two/.
Zuluaga, Maritza. "Anthony Acevedo, the only recognized Mexican-America holocaust survivor." Al Día, September 23, 2020. https://aldianews.com/articles/culture/anthony-acevedo-only-recognized-mexican-american-holocaust-survivor/60588.
Additional Resources
"2008: Anthony Acevedo shares WWII diary entries." CNN. Video, 2:48. Accessed April 16, 2021. https://www.cnn.com/videos/world/2018/03/09/anthony-acevedo-pkg-world-war-ii-diary.cnn.
Hinojosa, Maria and Janice Llamoca. "The Diary of an 'Undesirable.'" Produced by NPR and Futuro Media. Latino USA. May 25, 2018. Audio, 30:03. https://www.npr.org/2020/01/07/794136499/the-diary-of-an-undesirable.
Rigg, Sarah. "Ypsilanti author pens prize-winning screenplay about real-life Mexican-American Holocaust survivor." Concentrate, August 26, 2020. https://www.secondwavemedia.com/concentrate/features/rodolfoalvarado0561.aspx.